June 19, 2023
115 view(s)
When you're building a marketplace with local products, you need an affordable solution that's tailored to your specific mission and purpose.
What is a Marketplace?
When Does It Work Best as a Service?

An online marketplace is an eCommerce site that sells products and services from multiple sellers. In contrast with drop shipping, marketplaces operate through a revenue-sharing model and allow the customer to interact directly with the maker. Site owners curate and develop strong relationships with their sellers without having to hold and manage inventory or product listings.
Enterprise-level marketplaces can easily cost over a million dollars to develop. And, once they're built, a team of developers and operational staff is needed to keep it running. MakerPlace, on the other hand, is an affordable eCommerce platform tailored specifically to regional and niche eCommerce needs.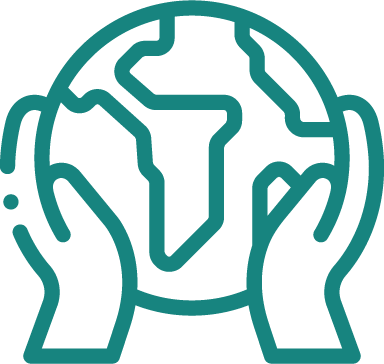 Mission Alignment
We share your passion for local producers - farmers, artisans, and makers. We've built a people-centered platform where makers tell their stories and consumers can feel good about their purchases.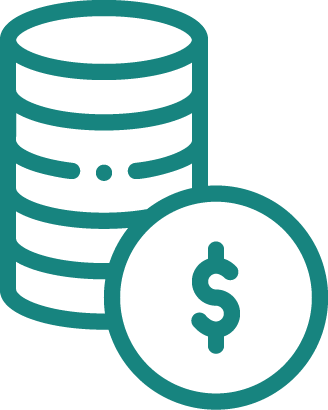 Cost-Effective Solution
Our revenue-share program minimizes launch costs and time. We provide the technology and partner ecosystem to quickly launch with the integrations, workflows, and marketing tools.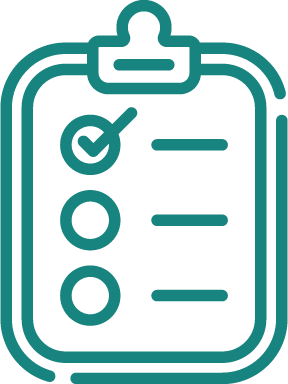 Operations Support
Developing a marketplace is just the beginning. You need resources to operate and manage it. MakerPlace runs the technology and the back office processes.
Built with Purpose
Consumers want to support small businesses and shop locally. The problem is, it often involves visiting multiple brick and mortar locations, searching and shopping on antiquated websites, dealing with a multitude of different checkout pages, and making do with limited variety. With the convenience of an online marketplace, you can eliminate the friction of shopping locally.
Provide your customers with one central location where they can shop for a wide variety of niche products and services.

One-Stop Shop
Customers love the ease of a single checkout while shopping and supporting locally made products. Merge online with in-store shopping.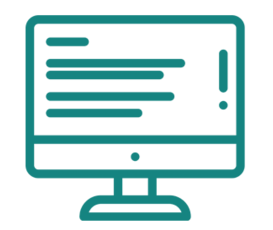 Personalized Experience
Enjoy richer, more relevant products and delivery options curated for the unique needs of your region. Feature the stories behind the makers.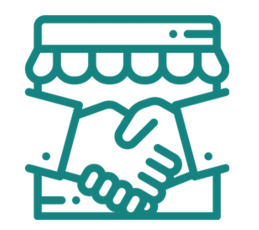 Boost Local Economy
Not only enjoy the multiplier effect of local buying, but also showcase maker-made products to others around the country and the world.
Our mission is to foster healthy communities, support small businesses, and create opportunities to shop responsibly by building purposeful eCommerce solutions. With a focus on building regional and niche marketplaces, we strive to help small cities compete in the digital economy.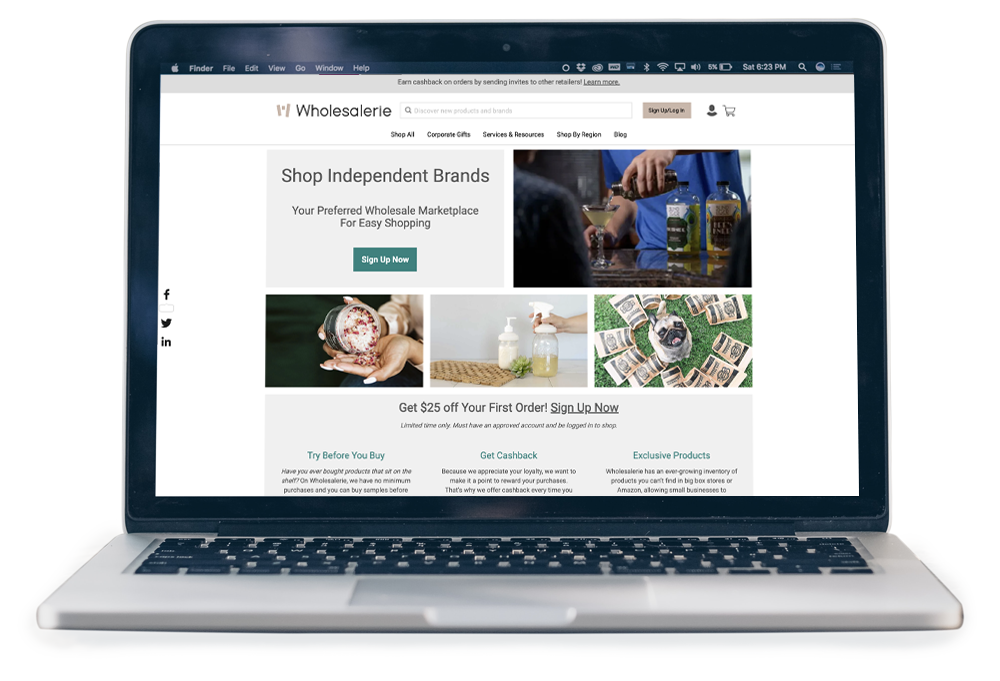 Every Marketplace is Special
Whether you're curating your offerings around a region, lifestyle, or hobby, a marketplace isn't just a place to shop. It's a community to be a part of.
With MakerPlace's feature-rich platform, you can pick exactly what works for your sellers and shoppers. Through these features, you can foster deeper relationships with your customers and showcase the story behind your brand.
For Sellers
An easy way to sell across MakerPlace marketplaces, with one simple to use a dashboard to manage products and orders. Create your product once and sell on multiple marketplaces.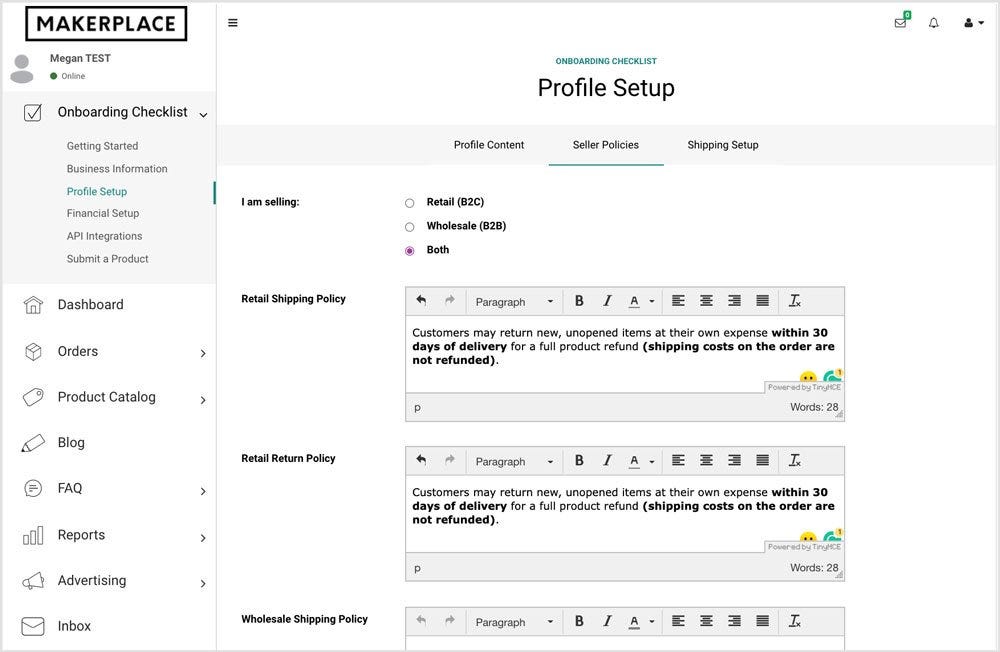 1. Create and manage your profile, products, and pricing all from one dashboard. Each product is capable of being offered on more than one marketplace.
2. Manage and Fulfill orders, customer communication, and shipping in one convenient location. One login, one place to manage for all marketplaces.
3. Ensure customer satisfaction and handle returns with ease. You are in charge of communication and your returns.
For Marketplaces
Tap into MakerPlace features, no tech required. Focus on growing your community and sales.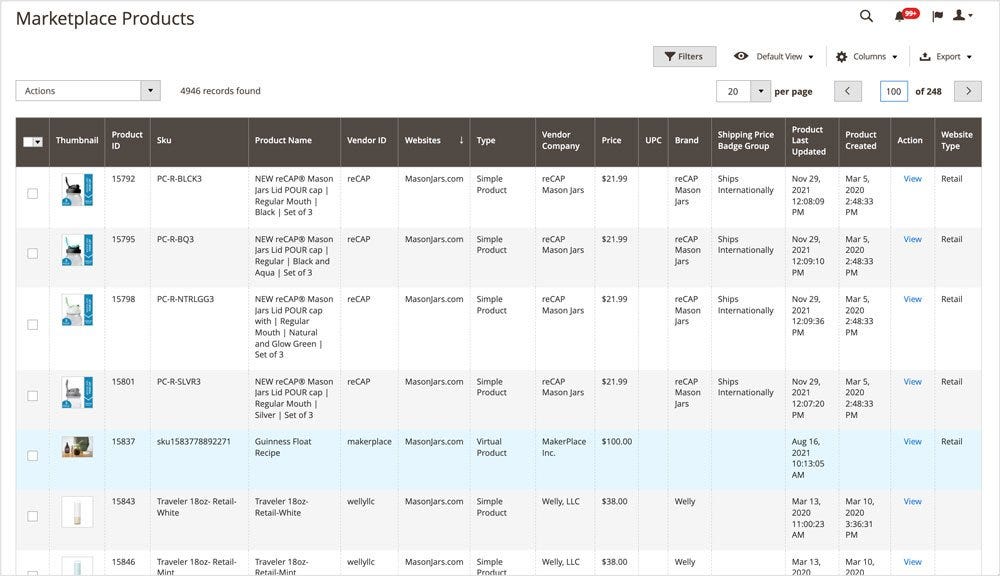 1. Curate the sellers and products that fit your region or niche. Recruit sellers or tap into MakerPlace's proprietary sellers.
2. Establish and manage the rules for your marketplace. You're in charge and can build and manage your marketplace to meet your goals.
3. Market to your target audience through email, social, and SMS using MakerPlace's advanced marketing tools. Grow your sales and own your marketplace adventure.
Key Marketplace Features
MakerPlace provides the tools and back-end to run a successful marketplace, offering an easy-to-use seller portal for a frictionless onboarding experience, and providing data and insights to sellers and clients. MakerPlace also offers fully-managed back-office tasks such as payment processing, tax collection, and customer support.
Compliance

No need to worry about certificates of insurance, W-9s, 1099-Ks, and marketplace tax rules.
Customer Service

We assist customers with their orders, payments, and technical issues to provide an excellent shopping experience.
Payment Processing

No need to worry about processing payments or fraud. MakerPlace handles payment processing, merchant fees, and most fraud protection.
Seller Management

Cloud-based seller portal ensures complete onboarding with strong product listings and branding. We have tools for promotions and fast order fulfillment.
Seller Payments

We do all the calculations for referral fees, seller orders, and handle all the details ensuring each seller is paid for their orders in a timely manner.
Taxes

Let's face it, taxes are complex, especially for a marketplace. Let us handle the calculating, collecting, remitting, and reporting taxes.
Understanding the Needs of a Marketplace
An online marketplace solution can boost customer loyalty and build trust.
Capture new revenue through commissions on sales, without the headache of storing and shipping items, or managing drop-shippers, or losing your audience to other sites.
Enhance your customers' shopping experiences by providing multiple, complementary products and services on a single website.
Build deeper relationships with consumers by showcasing the story behind the brands.
How it Works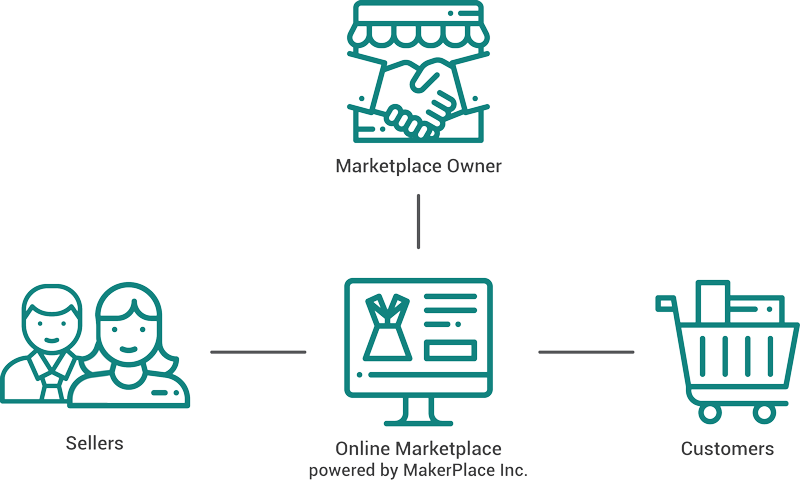 Sellers

• Create and manage their profile, products, and pricing
• Manage and Fulfill orders, customer communication, and shipping
• Ensure customer satisfaction and handle returns
Marketplace Owner

• Curate the sellers and products that fit your regional or niche
• Market to your target audience through email, social, and SMS
• Establish and manage the rules for the marketplace
Empower Local
Sellers & Buyers
In an eCommerce landscape dominated by giant marketplaces and big-box retailers, you can empower local sellers by giving them all the tools they need to thrive online. With MakerPlace, you also give people the options they need, the centralized checkout system they want, and the story of your marketplace. Plus, with omnichannel marketing (a fancy phrase for reaching shoppers via SMS, email, and social), you can help small businesses expand their customer base.
When you put the power back in the hands of local sellers, you help strengthen your local economy. When you strengthen your local economy, you foster a healthier community.