4th of July Mason Jar Recipes and Activities
You know what goes well with fireworks, food, and celebrating our forefathers? Mason jars. In preparation for July 4th, we've jotted down a variety of delicious dishes, handy party-hacks, and family-friendly activities to ensure your Independence Day is a blast!
Skip To The Content
Buy The Products Used In This How To
Make An All-purpose Marinade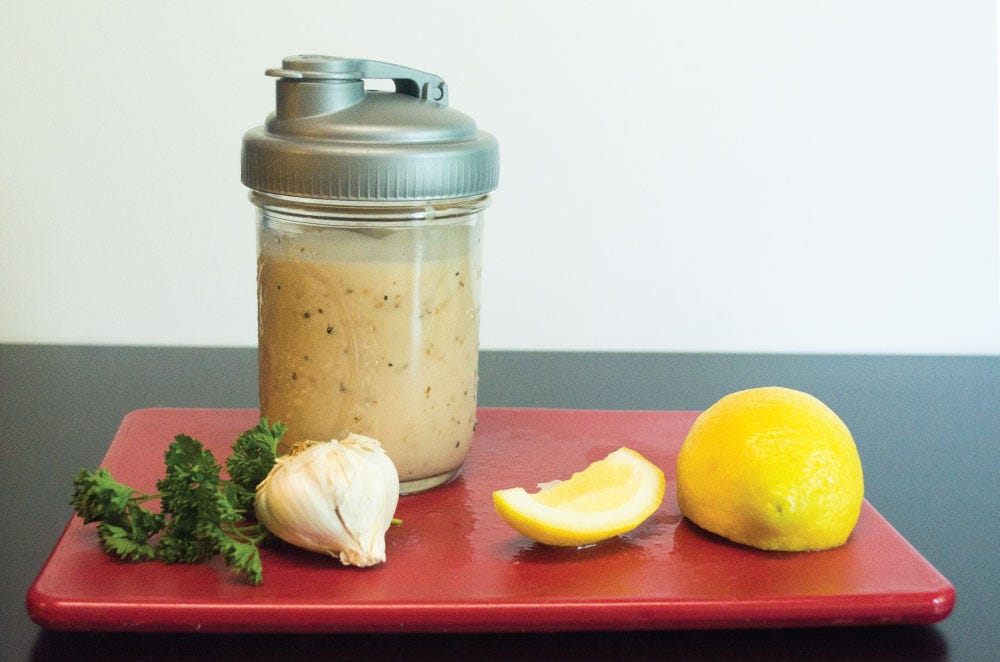 When you need a catch-all marinade, this Dijon, Garlic, and Lemon Marinade is it. It's perfect for chicken, pork, and fish. Prep it early and keep it fresh by storing it in a Mason Jar with a reCAP POUR lid so you're ready to go on the big day.
Ingredients
2 shallots, minced

2 garlic cloves, finely minced

3 lemons, zested and juiced

3 tablespoon(s) Dijon mustard

Kosher salt and freshly ground pepper to taste

2 wide mouth pint Mason jars

2 reCAP wide mouth PourCaps
Instructions
Combine and mix ingredients in a one-pint jar.

Transfer half of the mixture to a second pint jar.

Add a chicken breast to both Mason jars.

Cap off the jars with reCAP POUR Mason jar lids.

Refrigerate for at least 4 hours or overnight.

Remove chicken from refrigerator 30 minutes before grilling.
Keep Your Condiments Clean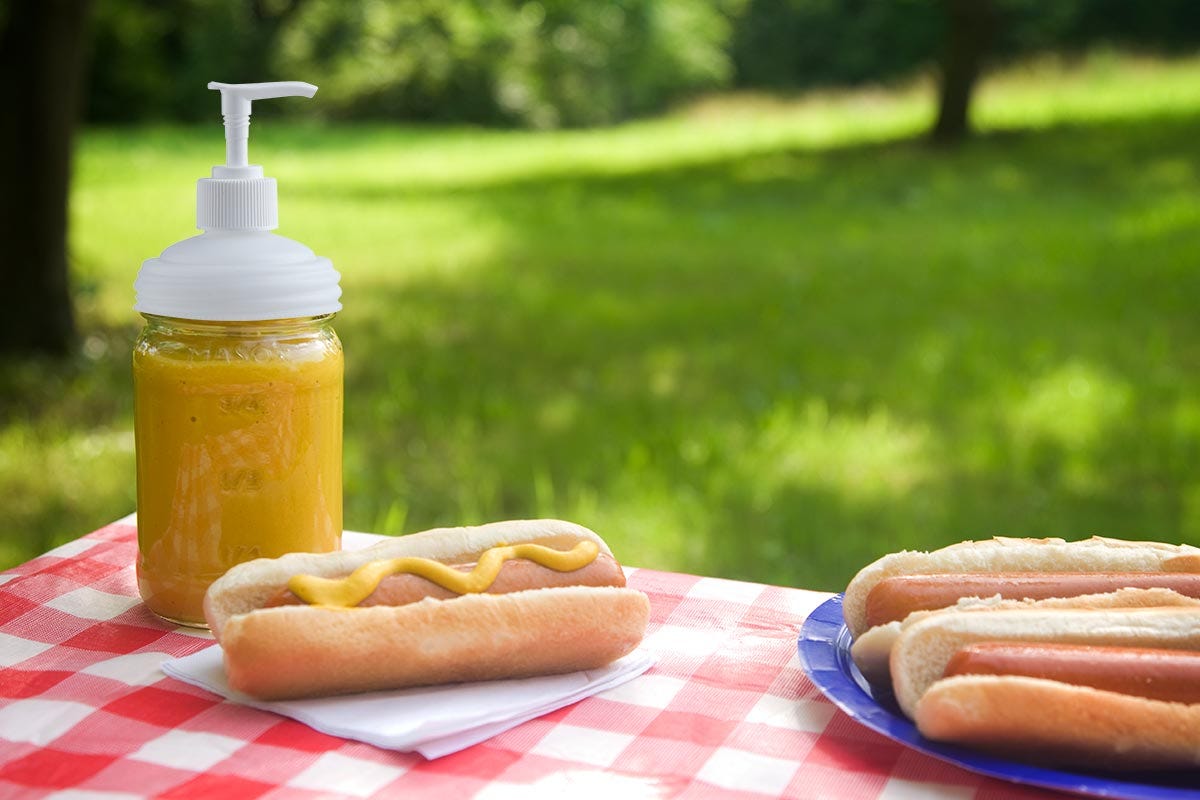 No hamburger or hotdog is complete without a healthy drizzle of ketchup and mustard. But wow, do those plastic squeeze bottles get gross fast. Nothing is less appetizing than crusty mustard (sorry for the graphic imagery). Minimize the mess and maximize the July 4th fun by turning your Mason jars into condiment dispensers with the reCAP ADAPTA Pump.
What's more, this multi-purpose pump also works great with lotions and soaps. Keep one out on the deck for sunscreen, another in the bathroom for soap, and a few on the picnic table for dressings, and you're all set!
Whip Up Some Salad Dressing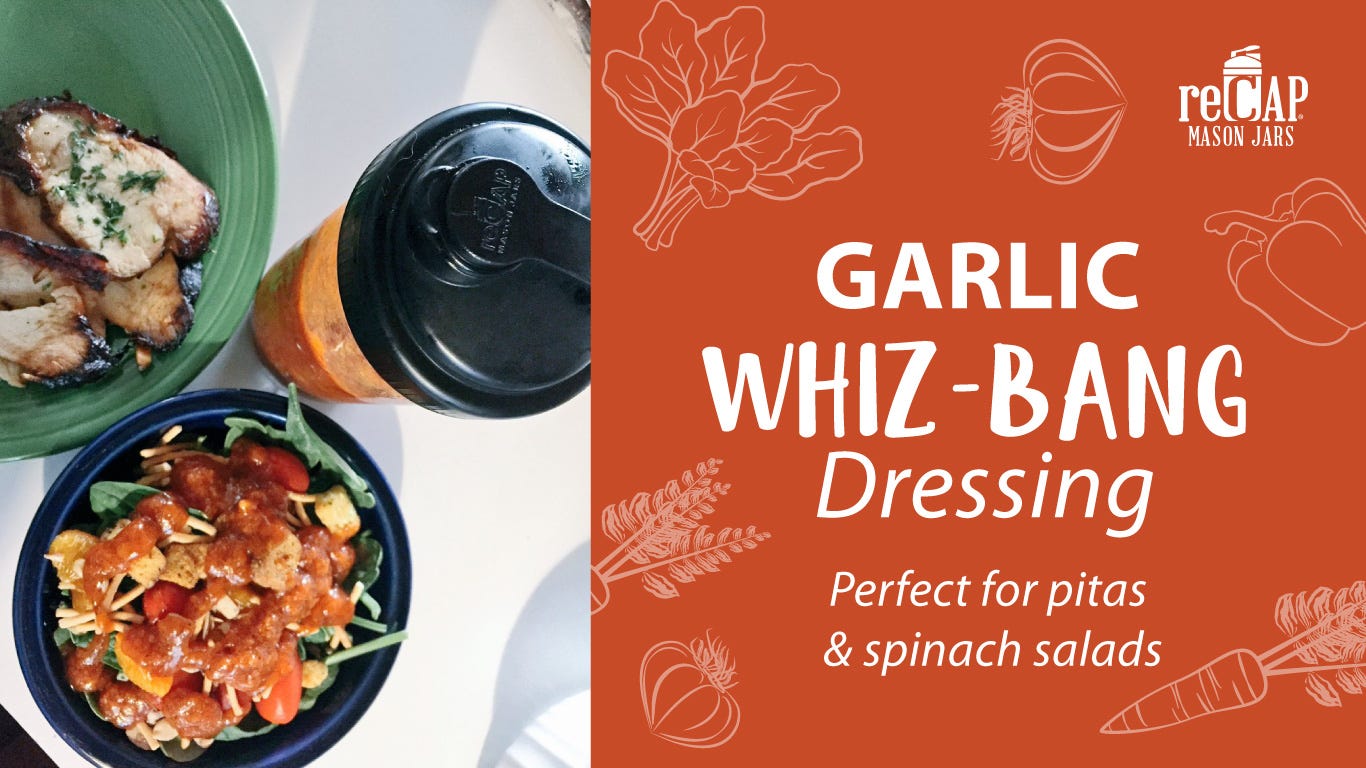 Try something new this July 4th with a homemade Garlic Whiz-Bang salad dressing. We're confident even your ranch-loving guests will dig the peppery-snap that this recipe brings with it.
Garlic Whiz-bang Dressing Ingredients
1 cup(s) vegetable or canola oil

1 cup(s) ketchup

1/2 cup(s) apple cider vinegar

4 tablespoon(s) brown sugar

2 tablespoon(s) teriyaki sauce

2 cloves garlic, minced

2 teaspoon(s) salt

1 teaspoon(s) black pepper
Instructions
Mix all the ingredients in a pint-sized Mason jar.

Chill for 2 hours before serving.
Shake Things Up
Early July is one of the best seasons for berries! That's why we love this Berry Bellini & Italian Soda recipe. All you need is sugar, berries, soda water, and mint.
In reCAP's recipe, we use raspberries and blackberries, which work really well. However, if you're feeling adventurous you could try blueberries and strawberries as well. Check out the video below:
Whisk[ey] Up Some Lemonade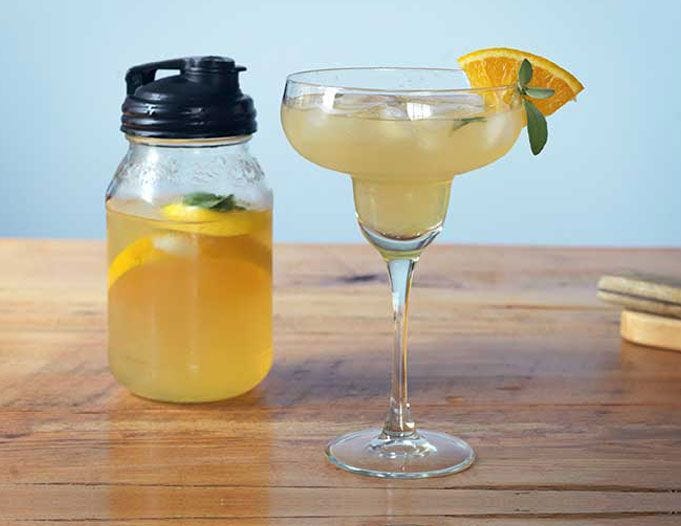 If you're looking for something stronger than soda, we've got a drink for you. Maintain the refreshing aspects of lemonade while enjoying the relaxing elements of a good whiskey with this Sage-Infused Whiskey Lemonade.
This freshly-squeezed liquid treat mixes lemon and orange juice for a well-balanced citrus flavor profile. If whiskey isn't your thing, this cocktail works well with vodka, rum, and gin too.
Whip up Some Whipped Cream
Homemade whipped cream is super simple and incredibly delicious. Plus, it doesn't have the chemicals that you'll find in Cool Whip either, which can give you some peace of mind. Kids also seem to love making this recipe as the heavy cream seems to "magically" turn into whipped cream. Check out the video below for instructions.
Catch Some Fireflies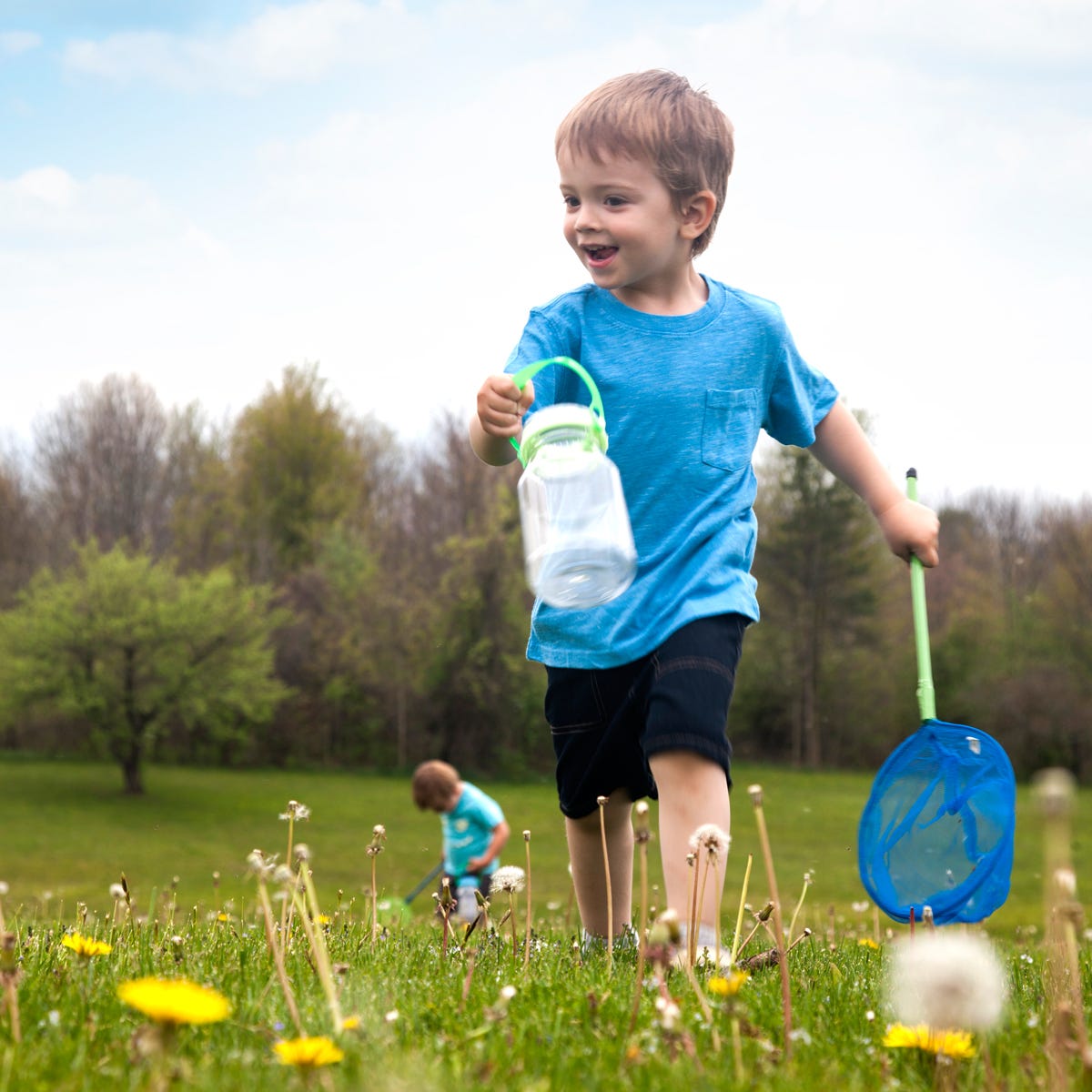 Fireworks aren't the only thing lighting up the sky. July 4th often brings with in Fireflies. Have fun exploring the great outdoors with this reCAP EXPLORE Bug Catcher. It glows in the dark and has a magnifying cap so kids can safely take a closer look. The EXPLORE Bug Catcher also comes with breathing holes so you don't hurt any light-up critters you may have caught.
Don't worry, it comes with a 32 oz. plastic Mason jar. With a convenient flip-open top and convenient handle, you can turn your backyard into a wilderness adventure.
STar spangle A Lantern
We love this patriotic Mason jar lantern craft that Addicted 2 DIY came up with. The shabby-chic, chalky finish on these pieces fit perfectly with a backyard party. Katie from Addicted 2 DIY used one half gallon mason jar and two quart-sized jars, but you can make this craft your own with whatever jars you have around the house.
Because you need some time for the paint to dry, we recommend not waiting until July 4th to get started. However, all things considered, this is a super fast craft that looks amazing.
Nothing Is More Patriotic Than Shopping Small
If you're looking to ramp up your patriotism is July 4th, stop by Wholesalerie.com to check out our incredible selection of American-made, handcrafted, small-batch products for all of your holiday needs. When you buy from Wholesalerie.com, you're directly supporting small makers, grassroots manufacturers, and artists across the country. We hope you have a wonderful, safe, and festive July 4th!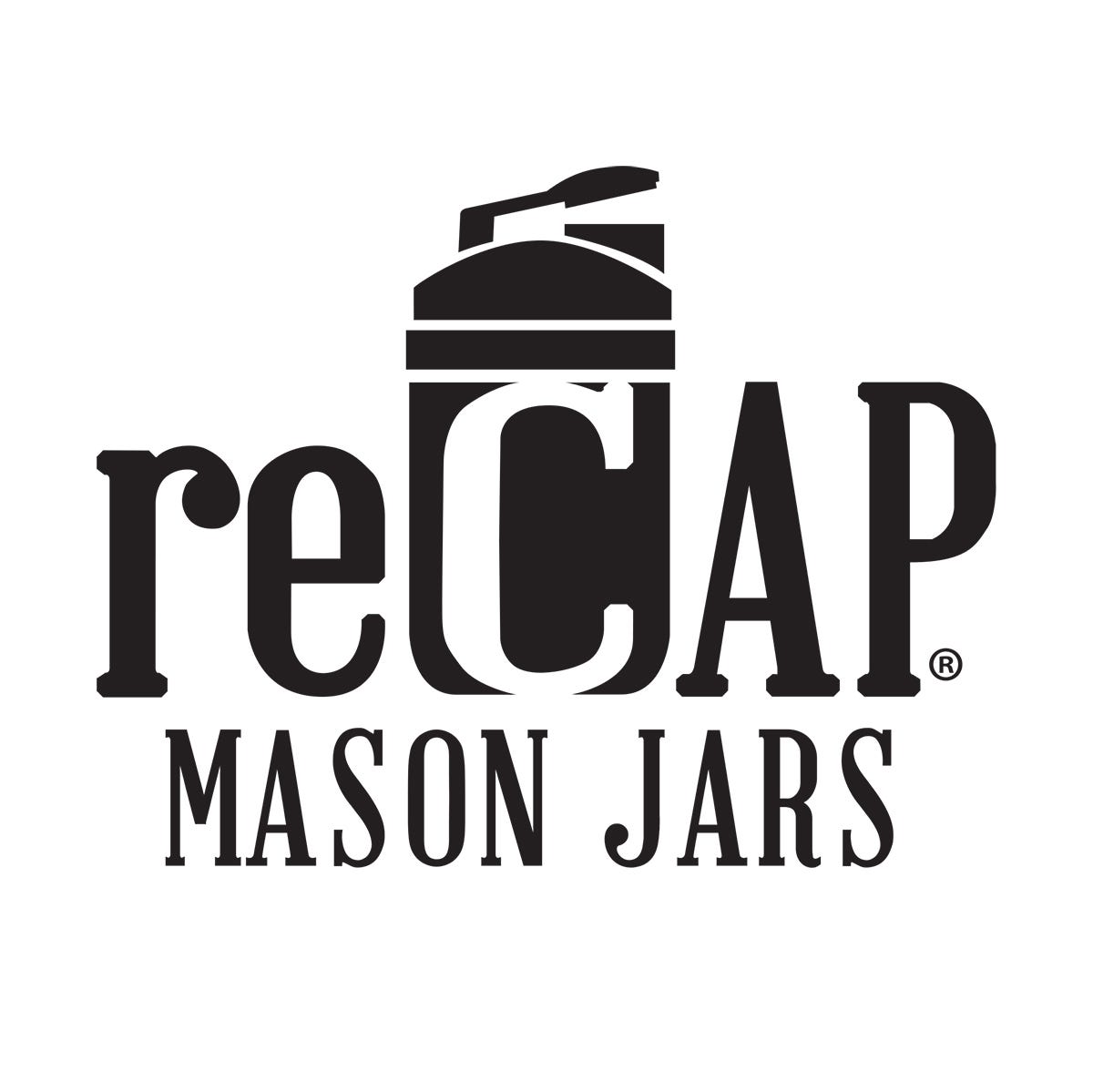 Meet reCAP®

, The Original Multipurpose Lid
We create solutions that enrich your life. The original reCAP products are the world's first multi-purpose Mason jar caps and are Made in America!